---
U.S. Merchant Marine


"The Merchant Marine has been around since Revolutionary War years when their ships were armed and helped defeat the British. They were America's first Navy. That's why the date 1775 appears on the official U.S. Merchant Marine flag. The Coast Guard started in 1790."
Harold Schmidt, Sequim, WA





Welcome to the U.S. Merchant Marine and the U.S. Maritime Service

Dedicated to the Mariners who died in service of their country during all Wars, including Revolutionary War, World War II, Vietnam; and their U.S. Naval Armed Guard shipmates.

"They have written one of its most brilliant chapters. They have delivered the goods when and where needed in every theater of operations and across every ocean in the biggest, the most difficult and dangerous job ever undertaken. As time goes on, there will be greater public understanding of our merchant's fleet record during this war [World War II]." President Franklin D. Roosevelt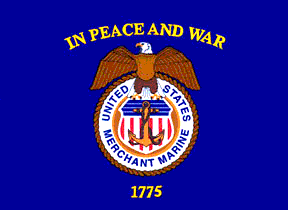 Official U.S. Merchant Marine Flag designed by the U.S. Army Institute of Heraldry
---
TALLSHIPS FROM OUR PAST



THE U.S. BRIG NIAGARAis the reconstructed relief flagship of Commodore Oliver Hazard Perry in the battle of lake Erie, September 10, 1813 and is the Official Flagship of Pennsylvania.





Kalmar Nyckel - Reconstructing part of Delawares's past


Pride of Baltimore - Home Page for Pride of Baltimore II.


HMS Detroit - The British ship that Niagara engaged on September 10, 1813.


HMS Rose - Niagara's sister ship, this 17th century frigate has visited Erie on a regular basis.


The Sloop Providence - A 1976 reconstruction of the most victorious ship in the Revolutionary War, Providence is now for sale.


U.S. Coast Guard Barque Eagle - U.S. Coast Guard training ship.


U.S.S. Constitution - Launched in Boston on October 21, 1797; the Constitution is the oldest commissioned warship in the world.


Gazela - Philadelphia's Tall Ship, a 19th century wooden, square-rigged ship.
---


Naval Warship Image Archives

U.S. NAVY HISTORY
DEPARTMENT OF THE NAVY -- NAVAL HISTORICAL CENTER

Other Navy and Naval History-related Web Sites from the Naval Historical Center

HyperWar: US Navy Ships, 1940-1945

the U.S. Naval Institute

United States Navy Home Page

United States Navy- Digital Images

U.S. Navy Memorial Foundation Home Page

Jim Mandelblatt's USS Requin Home Page
USS REQUIN (SS-481/SSR-481)

USS Requin's Home Port - Carnegie Science Center, Pittsburgh, PA




David Friederich's World War II Navy Page
A very well done page, He Was a Crew Member on the USS Cassiopeia AK75 In the WW II South Pacific.This site contains his PERSONAL NAVY MEMOIRS